ZHU Shudi
ZHU Shudi is Professor of Law School of Fudan University and Doctoral Supervisor of Constitutional Law and Administrative Law (especially Administrative Law).She is an International Fox Scholar at Yale University, as well as a Research Fellow of Jurisprudence Program in American Studies Center of Fudan University, which pertains to National 985 Philosophy and Social Sciences Research Base.
She is also a member of the China Society of Administrative Law and a member of the China Society of International Economic Law, and a standing director of the China Society of WTO. She received Baogang Education Award and won the title of Shanghai Pujiang Talent.
In the past few years, she has hosted some important projects, including the Yale-Fudan International Fox Fund Project "International (Trade) Administrative Law under the WTO System", the Shanghai Pujiang Talent Project "Research on the International Trade Administrative Behavior Review System under the WTO System", and the Shanghai People's Congress Research Project "International Projects such as the Comparative Study on the Construction of Financial Center Construction Regulations.
She has long been committed to the study of new development areas of globalization and economic administrative law, and is good at foreign-related administrative law research. She is one of the scholars who firstly advocated the study of international economic administrative law in China and has a certain influence in the academic circle. She devotes to studying Administrative Law, International Economic Law and Intellectual Property Law now, especially good at foreign-related Administrative Law. Recently, she focuses on International Economic Administrative Law, Administrative Law and Intellectual Property Protection
Education
Bachelor of History
LL.M.
Ph.D
Career Experience
Taught economic history and philosophy history The School of Administration.
Delivered lectures on administrative law series and international (economic) administrative law in Fudan University.
Participated in the consultation and argumentation of the formulation and revision of laws such as the Administrative Licensing Law and the Administrative Litigation Law of China.
Issued legal opinions on intellectual property administrative laws and other aspects for organizations such as Microsoft Corporation.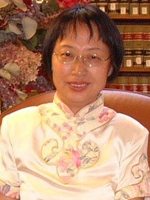 ZHU Shudi

Subjects:
Constitutional Administrative Law
Title:
Professor